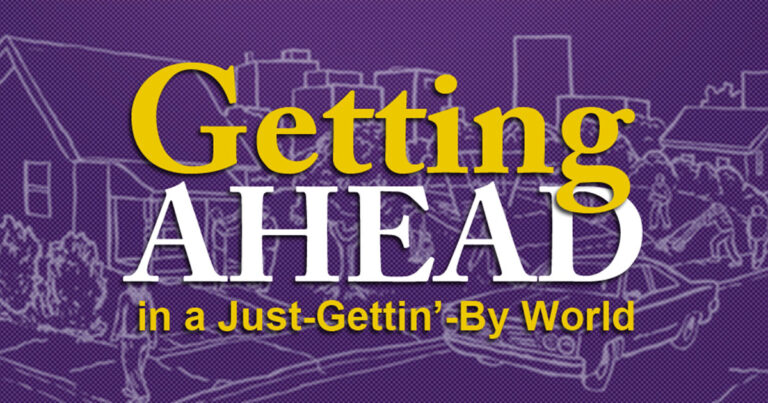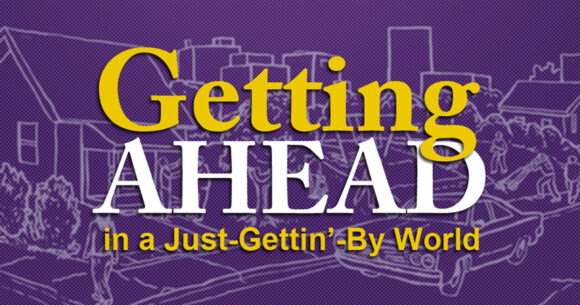 "Getting Ahead" Initiative
One of the first things we have to do is to gain a better understanding of the people we are trying to help!
"Getting Ahead" is a new initiative of the Society of St. Vincent de Paul of Fond du Lac County and is based on the St. Vincent de Paul National Theme of Systemic Change. This program consists of 1) "Bridges Out of Poverty" Workshops and 2) The "Getting Ahead" classroom mentoring program which helps individuals on their journey out of poverty.
By coming together as community members, we can work to create pathways out of poverty in individuals, in neighborhoods and in whole communities through collaboration, education and support.
Ways of "Getting Involved" in "Getting Ahead":
• Providing and generating financial support
• Providing support and hospitality for workshops and training sessions
• Volunteering as a facilitator or mentor
• Providing class-time support through meals, childcare, or hospitality
• Providing and generating In-kind support to an "Investigator" for books, vouchers, and supplies
• Hosting a presentation
• Obtaining referrals of individuals in poverty who might benefit from the "Getting Ahead" classroom program
For more information or to become involved in "Getting Ahead" or to schedule an informational presentation, contact Carissa Spaulding, Program Manager, at [email protected] or 920.979.9120 (cell).
Radio Plus Radio Ad (07/01/20)
End Poverty Through Systemic Change Vision Statement – FAQ
What are some of the benefits of systemic change -- for those we serve, our mission, and Vincentians?
It enhances the dignity of those we serve by including them in the identification of, and solution to, the difficulties they face

It empowers those we serve to achieve a better life

It strengthens the bonds of friendship that are at the center of our Vincentian vocation and ministry

It reinforces the importance of the home visit as the potential catalyst to begin the journey out of poverty

It leads to stronger communities by providing opportunities to individuals to acquire their essential needs and eliminating barriers to a more fulfilling life

It makes us more deeply aware of the various obstacles that prevent people from leading fulfilling lives

It supports the Catholic social doctrine of solidarity, which emphasizes that we are all ultimately responsible for each other

It eliminates the potential to inadvertently enable poverty by identifying the full range of resources people need to prosper, instead of focusing only on the immediate need

It encourages the effective use of multiple resources and collaboration with other groups

It provides us with a better understanding of the complexities of poverty and opens our minds to creative solutions to address those complexities

It reinforces our commitment to servant leadership and develops each of us to be a servant leader

It creates new opportunities for obtaining grants from both foundations and private sources to further the goal of eradicating poverty.
Has there been any decision made on changing the name i.e. Systemic Change to something else?
While the terminology "systemic change" will continue to be used, as it is a good general description of what is involved in making lasting / structural changes at both the personal and community level, and is well entrenched in the Vincentian Family...the Society's "marketing" of this initiative will be under the banner of "Hope in Action."
"Bridges Out of Poverty" are Workshops with DVDs and Dialogue
These workshops take a new look at poverty and recruit support for systemic change and the "Getting Ahead" program. Workshops focus around the principles set forth in the book "Bridges Out of Poverty" and provide a better understanding of the people who live in the economic class we call "poverty" and how they relate to people in "middle class" and "wealth." Interested community members, faith base organizations, and service providers are all invited to attend. The purpose is to:
These workshops help people better serve those in poverty by:
• Using the lens of economic class to understand one's own experiences and the experience of others
• Looking at other social disparities (racial, gender, physical ability, age, etc.)
• Addressing inequalities in access to resources and helping to build more stable resources
• Helping to understand the importance of relationships
• Addressing all causes of poverty
• Valuing that people in poverty are problem solvers and need to be at the decision-making table
• Building economically sustainable communities in which everyone can live well
"Getting Ahead" Classroom Program
The "Getting Ahead" mentoring program consists of 18-20 weekly classroom sessions led by trained St. Vincent de Paul members.
• "Getting Ahead" is a group of 5-10 individuals - called Investigators - who are part of an underserved (poverty or near poverty) population and wish to build a future story for themselves and their children
• "Getting Ahead" is about creating a unique future story for each Investigator
• Led by facilitators and along with their mentors, investigators research the impact that poverty and low wages have on them and what it will take to move from just getting-by to actually getting-ahead
• The facilitators and mentors are not teachers and do not tell the investigators what to do or think
• Investigators are people with information which will help each individual in the group become better decision makers and will help members of our community work together for systemic change
• Investigators are problem solvers in their own lives as well as in the community
• Whether we know it or not, we are all creating our future stories right now. "Getting Ahead" is the tool that investigators will use to help create their future stories