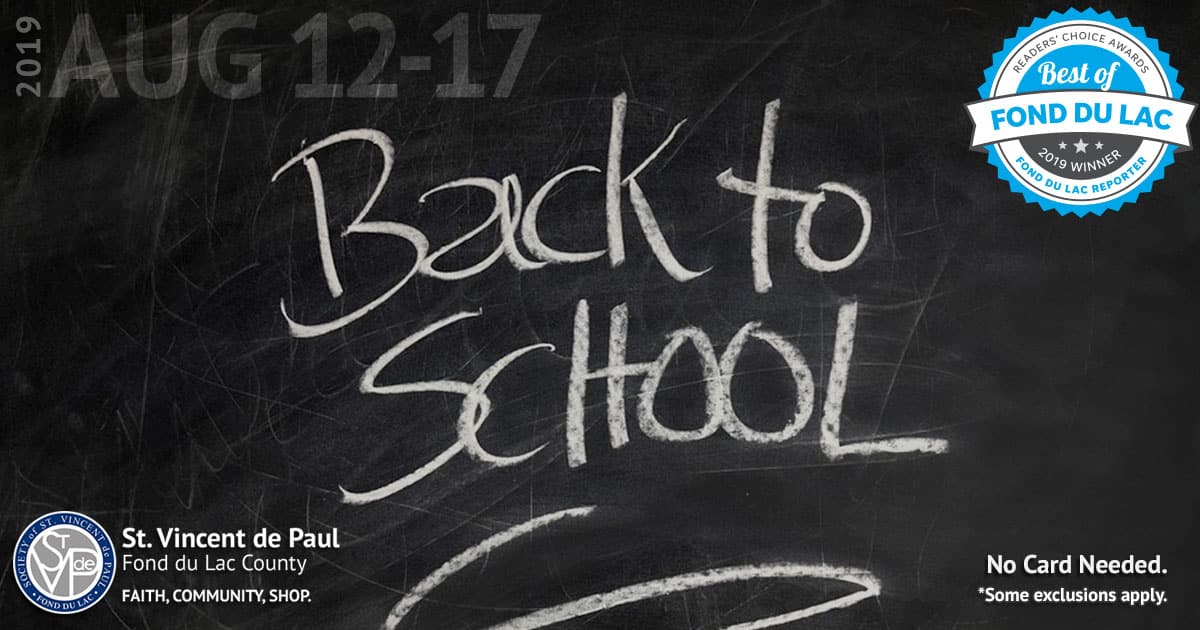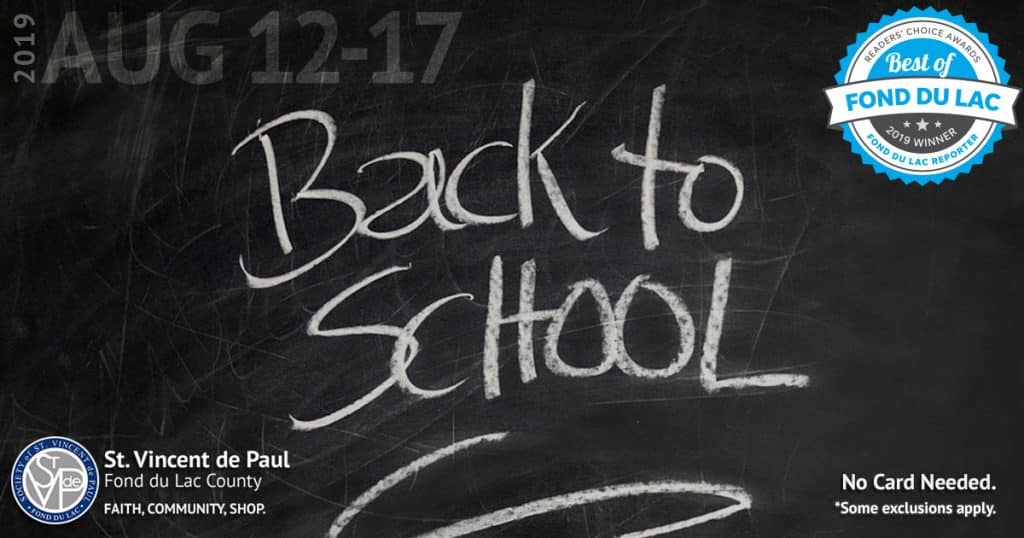 St. Vincent de Paul, Fond du Lac is participating in the community wide Back to School initiative and we are accepting donations of NEW school supplies. Please see below to see what supplies are needed to ensure the students in our community have the supplies they need to start the school year!
Studies show that children who have proper school supplies demonstrated higher levels of creativity, get higher grades and academic achievement, so we urge you to donate new school supplies!
With your donation of new school supplies you will receive a coupon for 20% OFF items store wide w/some exclusions.
We look forward to seeing the supplies you donate and will post the distribution dates after the donation window ends.
Thanks in advance for your patronage and helping the children in our community!
No Vinny Card Necessary
Back to School Promotion Details
When:  Monday, August 12 – Saturday, August 17, 2019
Hours: 9:30 AM – 6:00 PM (M-F), 9:30 AM – 5:00 PM (Sat.)
Where: 330 N. Peters Avenue, Fond du Lac, WI 54935
New School Supplies Needed
Binders 1″
Colored Pencils
Compasses
Crayola Washable Markers
Erasers
Dry Erase Markers
Glue
Glue Sticks
Graph Paper
Highlighters
Index Cards 3″x5″
Loose Leaf Paper
Pencils No. 2
Pencil Boxes
Pencil Cases
Pocket Folders
Rulers
Scientific Calculatores (TI 30XS)
Scissors, Pointed, 5″ and 7″
Sketch Books
Watercolors
Wide-Ruled Spiral Notebooks
---
*Some exclusions apply. See store for details.
---